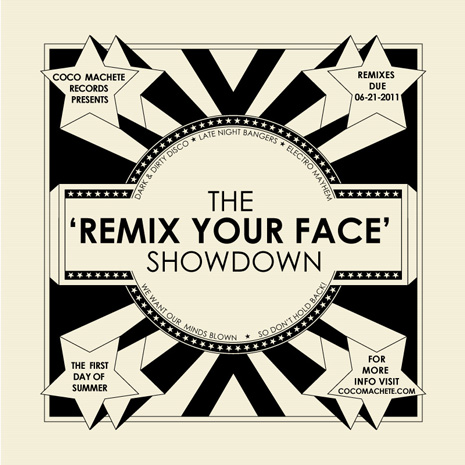 Coco Machete Records NYC Presents…
The 'Remix Your Face' Showdown!
A Competition to Bring Down The Walls!!!
Coco Machete Records is hosting an open call remix competition in order to find mind blowing new artists not afraid to take risks and push the
boundries of modern club bangers one step beyond.
We've picked three classic Coco Machete releases that all have full vocal
passes from three different NYC Rappers; Hazel, D' Secret SVC & D' Boldiss. You can use as much or as little of the vocals as you like and you don't have to stick to the original song structure at all…We want you to go wild & We want our minds blown, so don't hold back !
Here's how it works:
1. Download the remix parts & acapellas below
2. Remix any or all of the tracks
3. Finish your remix(es) by the first day of summer, June 21, 2011
4. Upload your remix to YOUR SoundCloud account
5. Post the SoundCloud player on www.facebook.com/cocomachete
6. Direct your friends and fans there to comment & 'Like'
The winners will be chosen by the end of the month by the Coco Machete A&R team, but your friend/fan support is important and counts as well. One winner from each title will be chosen for a future E.P. on Coco Machete.
And here's the parts:
Entyce featuring Hazel 'In Da Club' | DOWNLOAD HERE
D' Secret SVC 'Tight Jeans' | DOWNLOAD HERE
D' Boldiss 'Freak Huh?' | DOWNLOAD HERE
Now quick muckin' about and show us what you've got!!!
[PLAYLIST not found]